Online Query for game servers
The console will help you test the game server. Depending on the protocol, you can check the number of open slots, server settings, plugin names and player names.
---
Connection of server
This is a dedicated protocol for game servers used to get information about the version, installed plugins and players without authorization and logging in to the server. To work, it is enough to know the IP address and the query port.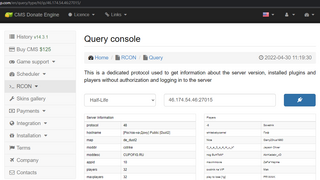 ---
Testing the Query protocol
We have created a tool for testing servers. Sometimes, when running a game server on a home computer, the router and NAT settings can block traffic. And then you can check the connection via the online console.
---
Supported Games servers
7 Days to Die, 7 Days to die, ARK: Survival Evolved, All-Seeing Eye, America`s Army 3, America`s Army: Proving Grounds, ArmA Armed Assault, Arma3, Armed Assault 2: Operation Arrowhead, Atlas, Battalion 1944, Battlefield 2, Battlefield 3, Battlefield 4, Battlefield 1942, Battlefield Bad Company 2, Battlefield Hardline, Brink, CStrike 1.6, CStrike: Global Offensive, Call of Duty, Call of Duty 2, Call of Duty 4, Call of Duty: Modern Warfare 3, Call of Duty: United Offensive, Call of Duty: World at War, Conan Exiles, Contagion, Counter-Strike 1.5, Counter-Strike 1.6, Counter-Strike 2d, Counter-Strike: Condition Zero, Counter-Strike: Global Offensive, Counter-Strike: Source, Counter-Strike Source, Crysis, Crysis 2, Crysis Wars, Dark and Light, DayZ Mod, DayZ Standalone, Day of Defeat, Day of Defeat: Source, Days of War, ECO Global Survival, Empyrion - Galactic Survival, Enemy Territory Quake Wars, Fortress Forever, Frontlines Fuel of War, GRAV Online, GTA FiveM, GTA MTA, GTA Multi Theft Auto, GTA SAMP, GTA San Andreas Multiplayer, GTA V FiveM, GameSpy2 Server, GameSpy3 Server, GameSpy4 Server, GameSpy Server, Garry`s Mod, Grand Theft Auto Network, Half-Life & Steam, Half Life 2: Deathmatch, Hurtworld, Insurgency, Insurgency: Sandstorm, Just Cause 2 Multiplayer, Just Cause 3, Killing Floor, Killing Floor 2, Left 4 Dead, Left 4 Dead 2, Life is Feudal, Lost Heaven, MORDHAU, Medal of honor: Allied Assault, Minecraft, Minecraft Bukkit, Minecraft BungeeCord, MinecraftPE, Minecraft Pocket Edition, Mumble Server, Natural Selection 2, PixARK, Project Reality: Battlefield 2, Project Zomboid, Quake 2 Server, Quake 3 Server, Quake Live, RFactor, RFactor 2, Red Orchestra 2, Red Orchestra: Ostfront 41-45, Rising Storm 2, Rising Storm 2: Vietnam, Rust, Rust Experimental, Rust Legacy, SWAT 4, Serious Sam, Soldat, Solder of Fortune II, Source Server, Space Engineers, Squad, StarMade, Star Wars Jedi Knight: Jedi Academy, Star Wars Jedi Knight II: Jedi Outcast, Starbound, Team Fortress 2, TeamSpeak 3, Teamspeak 2, Teamspeak 3, Teeworlds Server, Terraria, The Forrest, The Ship, Tibia, Tshock, Unreal 2, Unreal Tournament, Unreal Tournament 3, Unreal Tournament 2004, Unturned, Urban Terror, V Rising, Valheim, Ventrilo, Warsow, Wild Country RolePlay, Wolfenstein Enemy Territory, World Opponent Network, Wurm Unlimited
---