PHP donation for game servers
Home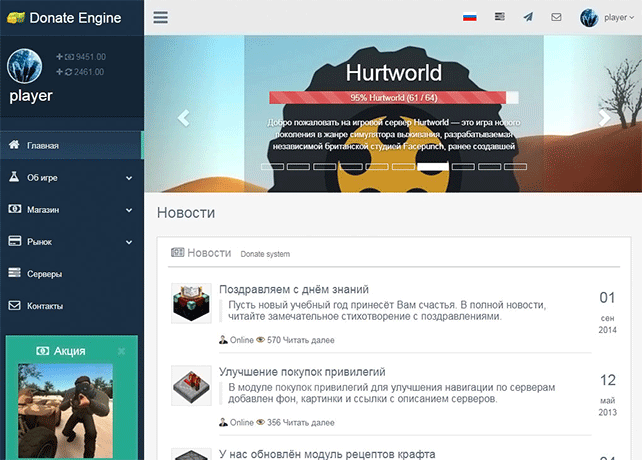 CMS Donate Engine v3
There is not something simpler like the monetization of servers! Simple installation, fast connections and immediate return of the project, together with the monetization system for the gaming servers.
---
Donation for game servers
CMS Donate Engine - is the engine
donation
for monetization ARK servers, Minecraft, Pocketmine, Rust, Project Zomboid, Life is feudal, SAMP, Hurtworld and servers based on the HALF-LIFE, such as Counter-Strike 1.6, which lets you create shops, enchanted with the sale of resources and privileges.
---

The Auto donate is written in programming language PHP script, uses MySQL database and is personal account to monetize by the game servers. On the basis of the scheduler is real time statistics. Store units allows you to automatically sell resources, enchanted items Minecraft VIP group. Pay unbanning gives the chance to issue a fine to the user in real currency. Play market allows users to trade personal resources. Direct connection to payment systems will increase your profits and reduce costs.
---
Custom external authorization
Integration with third party CMS allows you to use an external database for user authentication.
---
---
CMS has a system of routes, which allows you to use SEO URLS, GZIP compression allows to compress the transferred data. Using task scheduler are plotted, are given awards for the players by the total time online.

Built-in dialogue system that allows players to write each other messages, finding new people.
---
---
Donate for game servers
With the help of flexible system of discounts and donation of the site, it is possible to sell products with any price and with the access control system, site secure, which allows an administrator to access any page, certain users who want to help in the development of the site.

The access control system protects your website and allows the administrator to open access for any page specific users who will want to help with filling a useful content resource.