CMS DonateEngine v8.0.1
Improved PermissionEx admin modules and session management. The old Yandex money connection module has been removed and the admin/?page=payments_yoomoney Module has been added instead.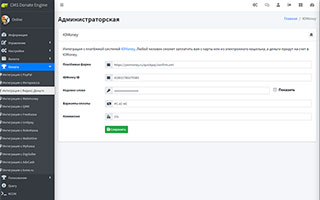 After replacing the files, go to manage menu shop/admin/?page=menu, select the administrator menu and click restore menu from backup.
With updating the template, without updating the MySQL structure.
The file with the changes
shop/admin/*.*
shop/install/*.*
shop/app/constants.php
shop/app/functions.php
shop/app/language/en/im.php
shop/app/language/en/donate.php
shop/app/language/ru/im.php
shop/app/language/ru/donate.php
shop/app/msmod/coins.php
shop/app/msmod/exchange.php
shop/app/msmod/im.php
shop/app/msmod/profile.php
shop/app/msmod/donate.php
shop/style/gente/index.tpl
shop/style/gente/js/shop.js