CMS DonateEngine v8.0.0
An extended access control system has been added to the privilege settings to block access to individual servers. Removed the request to the MySQL server to get administrator privileges. Privileges are written to the user session for the bust.
CMS DonateEngine v8.0.1 (11.12.2020)
Improved PermissionEx admin modules and session management. The old Yandex money connection module has been removed and the admin/?page=payments_yoomoney Module has been added instead.
CMS Donate Engine v8.0.2 (17.12.2020)
Correction of the error of displaying the price label with a discount in the resource sales modules. Added a CSS layer instead of the old image.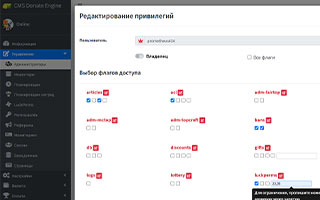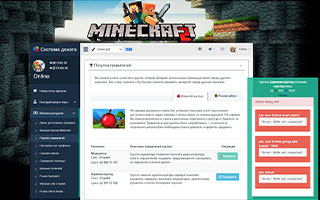 Обновлены формы в модулях для автоматического сохранения данных через отправку AJAX запроса. Улучшение JavaScript. Добавлен сброс ожидания загрузки картинок при переходе на новую страницу. Обновлён модуль продажи привилегий permissionEx и LuckPerms. Исправлена ошибка сохранения Steam.
В шаблон добавлена экспериментальная опция для анимации перелистывания при переходе по страницам.
С обновлением шаблона, без обновления структуры MySQL.
Files with changes
shop/admin/*.*
shop/install/*.*
shop/app/auth.php
shop/app/captcha.php
shop/app/functions.php
shop/app/gmp.php
shop/app/language/en/bans.php
shop/app/language/en/base.php
shop/app/language/en/crafts.php
shop/app/language/en/groups.php
shop/app/language/en/im.php
shop/app/language/en/news.php
shop/app/language/en/register.php
shop/app/language/en/shop.php
shop/app/language/en/store.php
shop/app/language/en/ucp.php
shop/app/language/en/unban.php
shop/app/language/ru/bans.php
shop/app/language/ru/base.php
shop/app/language/ru/crafts.php
shop/app/language/ru/groups.php
shop/app/language/ru/im.php
shop/app/language/ru/news.php
shop/app/language/ru/register.php
shop/app/language/ru/shop.php
shop/app/language/ru/store.php
shop/app/language/ru/ucp.php
shop/app/language/ru/unban.php
shop/app/msmod/articles.php
shop/app/msmod/bans.php
shop/app/msmod/captcha.php
shop/app/msmod/crafts.php
shop/app/msmod/groups.php
shop/app/msmod/im.php
shop/app/msmod/inv.php
shop/app/msmod/lisf.php
shop/app/msmod/lisfmarket.php
shop/app/msmod/mail.php
shop/app/msmod/moneystats.php
shop/app/msmod/news.php
shop/app/msmod/offer.php
shop/app/msmod/oxide.php
shop/app/msmod/oxidemarket.php
shop/app/msmod/prefix.php
shop/app/msmod/profile.php
shop/app/msmod/register.php
shop/app/msmod/sales.php
shop/app/msmod/sendpassword.php
shop/app/msmod/servers.php
shop/app/msmod/shop.php
shop/app/msmod/stats.php
shop/app/msmod/steam.php
shop/app/msmod/store.php
shop/app/msmod/telegram.php
shop/app/msmod/teleport.php
shop/app/msmod/ucp.php
shop/app/msmod/unban.php
shop/app/msmod/votes.php
shop/app/msmod/donate.php
shop/app/query.samp.php
shop/app/rcon.minecraft.php
shop/app/rcon.pe.php
shop/app/session_sql.php
shop/app/smtp-func.php
shop/app/lib/date.php
shop/app/lib/acl.php
shop/app/steamsign.class.php
shop/monitoring/css/style.css
shop/style/gente/css/custom.css
shop/style/gente/index.tpl
shop/style/gente/js/shop.js
shop/index.php