CMS DonateEngine v8.0.0
An extended access control system has been added to the privilege settings for assigning administrators to individual servers. Removed the request to the MySQL server to get administrator privileges. Privileges are written to the user session to speed up work.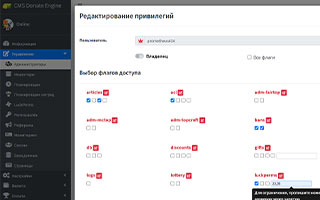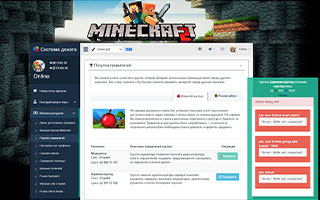 Updated forms in modules for automatic data saving via sending an AJAX request. JavaScript Improvements. Added reset of waiting for images to load when switching to a new page. Updated the module for selling permissionEx and LuckPerms privileges. Fixed a Steam save error.
An experimental option has been added to the template for flipping animation when navigating through pages.
With updating the template, without updating the MySQL structure.
The file with the changes
shop/admin/*.*
shop/install/*.*
shop/app/auth.php
shop/app/captcha.php
shop/app/functions.php
shop/app/gmp.php
shop/app/language/en/bans.php
shop/app/language/en/base.php
shop/app/language/en/crafts.php
shop/app/language/en/groups.php
shop/app/language/en/im.php
shop/app/language/en/news.php
shop/app/language/en/register.php
shop/app/language/en/shop.php
shop/app/language/en/store.php
shop/app/language/en/ucp.php
shop/app/language/en/unban.php
shop/app/language/ru/bans.php
shop/app/language/ru/base.php
shop/app/language/ru/crafts.php
shop/app/language/ru/groups.php
shop/app/language/ru/im.php
shop/app/language/ru/news.php
shop/app/language/ru/register.php
shop/app/language/ru/shop.php
shop/app/language/ru/store.php
shop/app/language/ru/ucp.php
shop/app/language/ru/unban.php
shop/app/msmod/articles.php
shop/app/msmod/bans.php
shop/app/msmod/captcha.php
shop/app/msmod/crafts.php
shop/app/msmod/groups.php
shop/app/msmod/im.php
shop/app/msmod/inv.php
shop/app/msmod/lisf.php
shop/app/msmod/lisfmarket.php
shop/app/msmod/mail.php
shop/app/msmod/moneystats.php
shop/app/msmod/news.php
shop/app/msmod/offer.php
shop/app/msmod/oxide.php
shop/app/msmod/oxidemarket.php
shop/app/msmod/prefix.php
shop/app/msmod/profile.php
shop/app/msmod/register.php
shop/app/msmod/sales.php
shop/app/msmod/sendpassword.php
shop/app/msmod/servers.php
shop/app/msmod/shop.php
shop/app/msmod/stats.php
shop/app/msmod/steam.php
shop/app/msmod/store.php
shop/app/msmod/telegram.php
shop/app/msmod/teleport.php
shop/app/msmod/ucp.php
shop/app/msmod/unban.php
shop/app/msmod/votes.php
shop/app/msmod/donate.php
shop/app/query.samp.php
shop/app/rcon.minecraft.php
shop/app/rcon.pe.php
shop/app/session_sql.php
shop/app/smtp-func.php
shop/app/lib/date.php
shop/app/lib/acl.php
shop/app/steamsign.class.php
shop/monitoring/css/style.css
shop/style/gente/css/custom.css
shop/style/gente/index.tpl
shop/style/gente/js/shop.js
shop/index.php