CMS DonateEngine v5.1.0
Adding functions to the template for a new design. Fix for compatibility with old MySQL servers.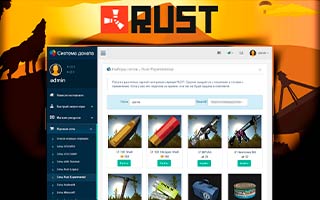 Added a drop-down list to the top menu for changing the site design. A design was created for all the main types of supported servers - Minecraft, Pocket Edition, Conan Exiles, ARK, PIXARK, Life is Feudal, Project Zomboid, Rust, HurtWorld, SAMP, MTA, Counter-Strike.
You can download an example for Photo Shop by following the link:
/addons/psd_CMS_Donate_Engine.zip
With template update, without updating the MySQL structure.
To update, replace the files with new ones.
The file with the changes:
shop/admin/*.*
shop/install/*.*
shop/app/constants.php
shop/app/functions.php
shop/app/language/en/base.php
shop/app/language/en/shop.php
shop/app/language/en/steam.php
shop/app/language/ru/base.php
shop/app/language/ru/shop.php
shop/app/language/ru/steam.php
shop/app/msmod/groups.php
shop/app/msmod/news.php
shop/app/msmod/prefix.php
shop/app/msmod/sales.php
shop/app/msmod/shop.php
shop/app/msmod/skins.php
shop/app/msmod/steam.php
shop/app/msmod/store.php
shop/app/msmod/teleport.php
shop/app/rcon.pe.php
shop/app/steamsign.class.php
shop/style/gente/css/custom.css
shop/style/gente/index.tpl
shop/style/gente/js/shop.js
shop/style/images/hurtworld.jpg
shop/style/gente/images/background_*.jpg