CMS DonateEngine v4.0.4
Updated module receiving pozirovanii from the players, added the category to pay donation buttons. Now you can take
Yandex.Money
,
Webmoney
, QIWI,
PayPal
directly with disabling them in other payment aggregators.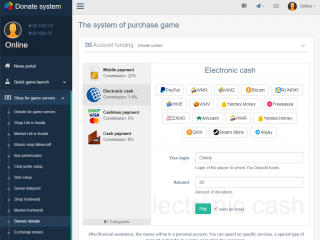 Run the MySQL query through phpMyAdmin:
ALTER TABLE `ms_settings` CHANGE `value` `value` TEXT CHARACTER SET utf8 COLLATE utf8_general_ci NOT NULL;
To update, replace the files with new ones.
The file with the changes:
shop/install/*.*
shop/admin/*.*
shop/payments/*.*
shop/app/constants.php
shop/app/language/en/donate.php
shop/app/language/ru/donate.php
shop/app/msmod/prefix.php
shop/app/msmod/donate.php
shop/style/gente/index.tpl
shop/style/images/payments.png
Update template, with update structure MySQL.